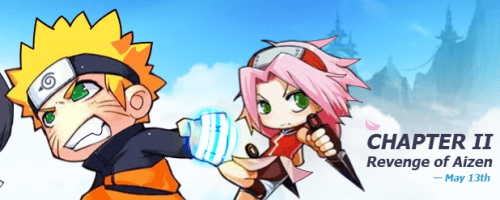 I'm a big fan of Naruto and Bleach so I'm excited to say that NGames has released more details of "Chapter II: Revenge of Aizen" . This update of Pockie Ninja's Naruto/Bleach inspired MMO will include new gameplay features and improvements to the browser-based brawler.
The story continues on with Aizen still hiding away in Las Noches. Rumour has it that he has opened Las Noches' 10 remaining levels, which means more challenges for the Ninjas! Also, an unknown gang of baddies are planning to seize the power of the Ninja! New gameplay features include:  new secret ninja skills, the introduction for pets to learn skills of their own, new general and exclusive pet skills, a new pet tracing feature, increased Las Noches floors of challenges, new maps and levels and more.
Interested in seeing the new skills in action? Check out the video below!
"Chapter II: Revenge of Aizen" launches on the 13th of May, in other words, tomorrow!