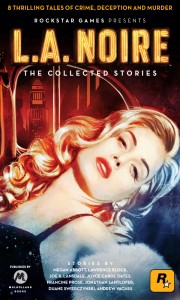 Early film noir films were influenced by pulp fiction writers like Raymond Chandler and Dashiell Hammet, and video games like Assassin's Creed and World of Warcraft inspire novels and short stories. Therefore, if we do our math correctly then it's almost a guaranteed fact that Rockstar's upcoming title, L.A. Noire, would spawn at least some sort of story.
In conjunction with Mulholland Books and Rockstar Games, eight notable authors from the thriller genre will publish a series of short stories based on characters and events from the video game, L.A. Noire. The collection will be titled "L.A. Noire: The Collected Stories" and will see authors such as Megan Abbott, Joyce Carol Oates, and Andrew Vachss create their own stories from the 1940s backdrop of L.A. Noire.
The short stories will examine tales of actresses desperate for Hollywood starlight, heroes turned into defeated men, and Noir villains – just to name a few. Select stories will be available across various media outlets prior to L.A. Noire's release (May 17 in USA, May 20 in Europe and Oceania), and an excerpt from Megan Abbott's "The Girl" is available now at Rockstar's official site here.