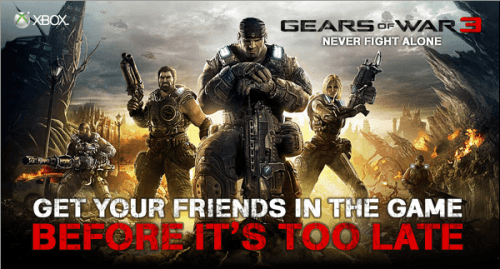 NEVER FIGHT ALONE !!! Sometimes MasterAbbott turns on his XBOX fires up Gears Of War 3 and goes into battle Lancer in hand all on his own.  Facing a world full of FREAKS and LOCUSTS all at the same time.  The battle is EPIC, after the dust settles all that remains are the body parts of the Locust scattered all over the ground, and in the middle we have MasterAbbott the last man still standing all on his own.  But why should I have all the fun ? 
The Gears Of  War 3 has just moved into its 3rd week of Beta testing with another 2 weeks of fun left, we  think its time for MasterAbbott to find himself a Brother or Sister to aid him in the fight against the LOCUST SCUM !!!
Whoever wants a GEARS OF WAR 3 BETA download code leave a comment below and tell us what you love about Gears Of War, and what you're looking forward to the most about Gears Of War 3.   Winner will get the code and also a friends request from the legendary man himself MASTERABBOTT so you can both play together!!! WOO HOO life can't get any better than this 😉
We'll pick a winner in a few hours (or once we get a min of 10 comments) whatever comes first.