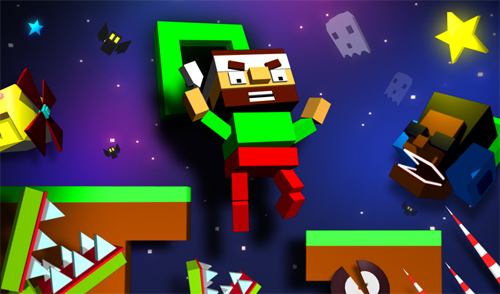 KAMI RETRO is spelled in all caps. There's a reason for it. It's because it demands your attention. Unable to be contained by a single device, KAMI RETRO has spread it's love onto the delicious tenderness that is iPad. Optimised for the increased resolution, KAMI RETRO is perfectly suited for the larger real-estate.
KAMI RETRO burst onto the scene and was immediately highlighted as iPhone Game of the Week on the US App Store, being the envy of all other apps. But it didn't let the fame go to it's head, instead KAMI RETRO focused on an awesome retro-3D look, 8-bit inspired soundtrack and a unique spin on platforming and puzzle-gaming.
Featuring more than 60 stages across five worlds, platform-puzzle game KAMI RETRO HD will challenge players' smart thinking and quick fingers.
I can't recommend KAMI RETRO enough. It's a fantastic title and worthy of your time. The HD iPad version is available on the App Store now for $2.99 and the iPhone, iPod Touch and iPad version is still available for $0.99.
KAMI RETRO and KAMI RETRO HD are developed by Paw Print Games and published by GAMEVIL.