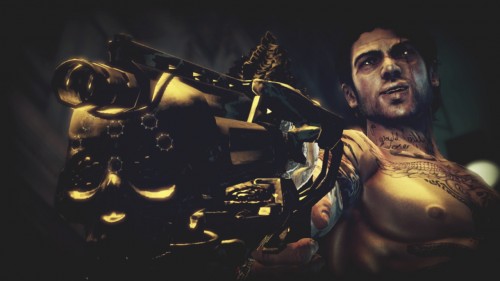 Executive director Suda51, creative producer Shinji Mikami (director of Resident Evil) and music composer Akira Yamaoka, have crafted the insane, 'very unique',  psycho-punk action thriller known as Shadows of the Damned. Players can get a taste of this latest instalment from Suda51 in the form of the game's full soundtrack, available for anyone that's pre-ordered the game at selected retailers (GAME, JB Hi Fi, EB Games and the EA STORE). Players will receive a digital download of twelve original tracks by critically acclaimed composer Akira Yamaoka (sound director of Silent Hill).  The soundtrack takes inspiration (much like the game itself) from grindhouse exploitation cinema of the 1950-70's.
The 12 hell-raising tracks include:
1. Theme of Shadows of the Damned (featuring the English gothic punk band, The Damned)
2. Shedding Stars
3. Walk if Off
4. Last Stop, Windows Up
5. This Way Comes
6. Fathomer
7. Smile for a Broken Dawn
8. Showdown at High Moon
9. Cold Turkey
10. Broken Bones, Broken Promises
11. Dropped Off Between Stops
12. Clawing at the Veil
So expect the unexpected, which one must always take when entering a Suda51 game. Shadows of the Damned will be available June 23 in Australia and June 24 in New Zealand for Xbox 360 and Playstaion 3.