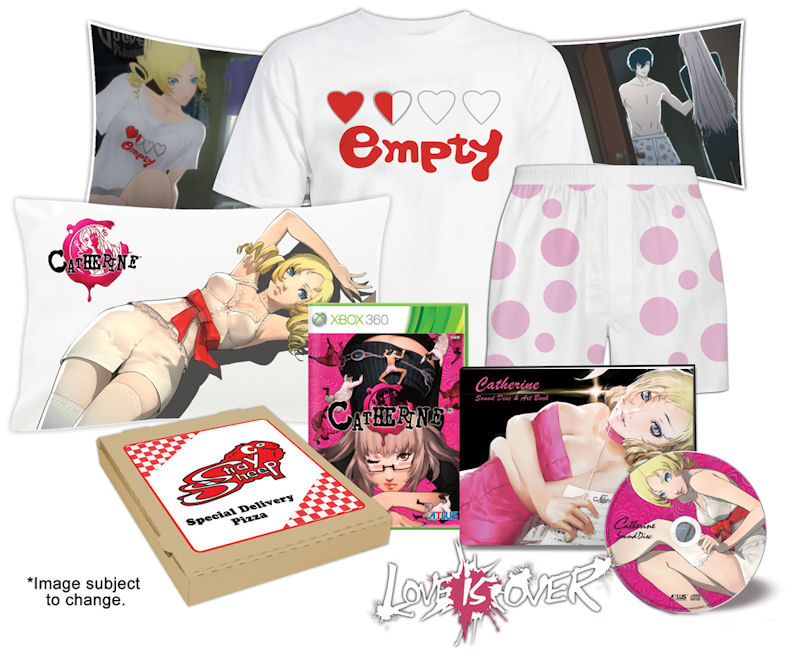 A game like Catherine deserves a special edition and fans probably were expecting something to be in the cards at Atlus headquarters. Of course fans may not have been expecting them to double down either. They announced today that Catherine will indeed be getting a special edition release but this one will contain more than a handful of special features you won't be able to get anywhere else.
Titled the Love is Over Deluxe Edition it will contain everything a fan eagerly anticipating the release of Catherine in the U.S. could want. The entire package will be delivered in a Stray Sheep pizza delivery box straight from the game itself. The contents of the box will include the Xbox 360 or PS3 version of the game you purchased as well as a Catherine Pillowcase, a large shirt such as the one she wears in the game and a pair of Vincent's boxers similar to the ones worn in the game.
The package will sell for $79.99 which places it at only $20 more than the standard $59.99 price that Catherine will sell for on July 26th when it releases to stores. Then again you should probably pre-order this Deluxe Edition because it is going to be of limited quantity. Also if you happen to pre-order the title you will also recieve an 11-track music CD as well as a 36 page Catherine art book similar to what you would always get from a premium edition.