The World Cyber Games is fast making a name for itself in Australia, and what better way is there to launch the WCG 2011 than to have a party at Sydney's hottest venue? Throw in The Ivy, free drinks, games, a dancefloor, and a hundred or so people, and Triumph Leisure Solutions (TLS) have hosted one hell of a party. Editor Jared Hilliers and I rocked along to the launch party to welcome in this new year of competitive gaming. Sidenote: Ignore the blurriness of my images, my phone is in no way a photography device but it's all we had!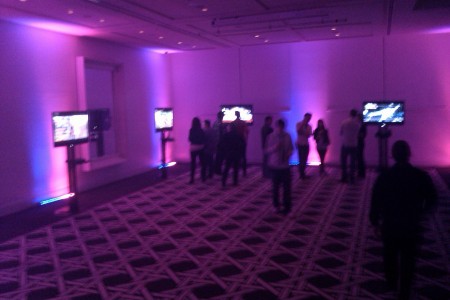 The dancefloor at the beginning of the night…it filled up, I swear.
The World Cyber Games is the world's first cyber game festival, with over one million competitors across 90 nations. The first WCG Grand Final was held in 2000 in Korea, and has since spanned over six continents. Gamers compete within their own nation for the national title before jetting off to the Grand Final (this year the finals are going back to their roots and being held in Korea again). Official game titles for 2011 include Tekken 6, Counter Strike 1.6, and FIFA 11.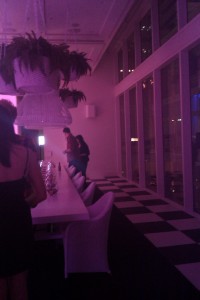 The room with lollies and popcorn!
The launch event began in typical fashion with some classy drinks and finger foods, and a whole lot of butt kicking (Jared's butt got kicked, not mine) in Tekken. There was a diverse crowd there: from us media moguls to managers of EB Games. Given the night was also a soft launch for OneHD's new television show, Save Point, there were plenty of staff from OneHD there to join in the party as well.
Of course, the night wouldn't be without a speech or two, and Dave Powell, the General Manager from TLS, told the guests all about the event in Australia this year, and the future of the WCG. Some people may not know, but Australia is bidding to host the 2012 World Cyber Games Grand Final. With such a rise in prominence of this event nationally and globally and with the rise of E-sports, the World Cyber Games is becoming an event that all gamers are taking notice of and Powell said Australia was in a great position for next year's Grand Final.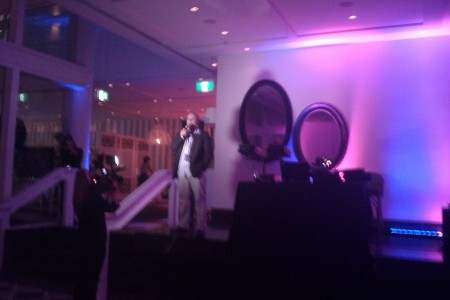 Dave Powell speaking to the guests about the WCG.
Aside from that, there was plenty of beer and plenty of fun to be had. A few of us rocked out on the dance floor and made some requests to the DJ, and there was a group of people wearing Sonic hats dancing with us (how awesome is that?). Even the photographer from TLS and a few PR people got in on the dance floor and those who weren't were kicking butt on the PS3s.
Overall, it was a great event and definitely enjoyable. Capsule Computers gives a big shout out to the guys at TLS, including Director Blake and General Manager Dave – you guys are awesome for hosting this event and the WCG wouldn't be what it is in Australia without you! Let's just say this: if the WCG comes to Australia next year for the Grand Final, there will definitely be another crazy launch event and probably even a crazier after party.
Check out more from the World Cyber Games 2011 at the official website here, and for updates check out their Twitter and Facebook.