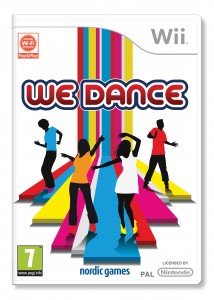 Nordic Games has announced the tracklist for We Dance, with 40 tracks available from launch day.
There's hits from different time periods and genres, so there should be something to interest everyone. While some are difficult to picture yourself dancing to, hopefully the developers come up clean with well-organised routines that are fun to dance to using the three styles of play – using the Wii Remote, using the dance mat accessory such as Nordic Games' "Star Mat" or a combination of both.
Supporting up to four players dancing simultaneously, the game also features warm-up sessions, mini-games, jukebox mode, tutorials and performance statistics and will release sometime later this year in the third quarter.
The full tracklist is as follows:
| | |
| --- | --- |
| A.R. Rahman feat. The Pussycat Dolls | Jai Ho! (You Are My Destiny) |
| Ace of Base | Don't Turn Around |
| Agnes | Release Me |
| Axwell feat. Max'C | I Found U |
| B-52s | Love Shack |
| Baby D | Let Me Be Your Fantasy |
| Barry Manilow | Copacabana (At the Copa) |
| Basement Jaxx | Where's Your Head At? |
| Basshunter feat. DJ Mental Theo's Bazzheadz | Now You're Gone |
| Blue | One Love |
| Carl Douglas | Kung Fu Fighting |
| Chamillionaire feat. Krayzie Bone | Ridin' |
| Chuckie & LMFAO | Let The Bass Kick In Miami Girl |
| Donna Summer | I Feel Love |
| Fatboy Slim | The Rockafeller Skank |
| Fedde Le Grand | Put Your Hands Up 4 Detroit |
| Gipsy Kings | Bamboleo |
| Jay Sean feat. Lil Wayne | Down |
| Jive Bunny | Let's Twist Again |
| Junior Senior | Move Your Feet |
| Kid Cudi | Day 'n' Night |
| Kool & The Gang | Jungle Boogie |
| Los Del Rio | Macarena |
| MC Hammer | U Can't Touch This |
| OK Go! | Here It Goes Again |
| Outkast | Hey Ya! |
| Pendulum | Slam |
| Pixie Lott | Boys And Girls |
| Puretone | Addicted To Bass |
| Room 5 feat. Oliver Cheatham | Make Luv |
| Rose Royce | Car Wash |
| Sergio Mendes feat. The Black Eyed Peas | Mas Que Nada |
| S-Express | Theme From S-Express |
| Sister Sledge | He's The Greatest Dancer |
| Snap! | Rhythm Is A Dancer |
| Spice Girls | Spice Up Your Life |
| Survivor | Eye Of The Tiger |
| The Saturdays | Forever Is Over |
| The Village People | YMCA |
| Whigfield | Saturday Night |