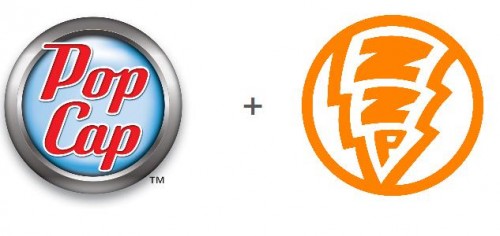 Everyone knows that when it comes to making games targeted for the casual audience, no one does it better than PopCap. In the past few years, the company has been pushing a bit more into the social market with several Facebook applications, and to move more forward in that direction it was announced today that PopCap have now acquired ZipZapPlay, the creators of the popular Facebook title "Baking Life" (which has well over 2 million players) as well as several other smaller games on the site.
Most of the time when an acquirement of any company takes place, you see a lot of changes from the top, but in this case, PopCap seem to eager to move forward with ZipZapPlay by keeping the infrastructure relatively unchanged. Founders Curt Bererton (CEO) and Mathilde Pignol (CCO) will continue to direct all game design and development from the San Francisco studio.
A Statement was issued today from PopCap on this huge move for both companies:
"The team at ZipZapPlay is one of the best in the social games space, and combined with our existing group in Seattle gives us the opportunity to dramatically expand our development resources," said John Vechey, PopCap co-founder and VP of Corporate Strategy and Development, who oversaw the acquisition. "While the acquisition creates immediate cross-promotional and operations benefits, this is a strategic move with huge long-term potential; we believe ZipZapPlay can help us further evolve and expand the definition of social games."
"Adding ZipZapPlay's strong design and development team to our rapidly-growing social games group is a big move for us," said Jason Kapalka, co-founder and Chief Creative Officer at PopCap. "ZipZapPlay is a great cultural fit: a truly creative company that lives and breathes in this space. And their next game is very innovative and exciting – we believe it has the potential to be a step forward in the evolution of social gaming."
Bereton also offered his input on the future of ZipZapPlay as well:

"We're elated to join the leading casual games developer and help grow PopCap's presence in the social arena," said ZipZapPlay's Bererton. "PopCap's focus on innovative gameplay and user experience meshes with our own design philosophy. We can't wait to put our heads together with PopCap and start creating the next generation of games for Facebook and other social platforms."
With EA and Zynga currently leading the Facebook Market and PopCap already running a close third in the race for the top spot, this acquisition should only lead to spectacular results for the company as PopCap now expect "four to five" new games to be launched for the social networking site by years' end due to the expansion. Personally, I only play Facebook games that are from PopCap such as Bejeweled and Zuma Blitz, but the options look to be about to open up in a big way very soon and we very well could be seeing the start of PopCap dethroning Zynga from the top of the food chain when it comes to social gaming. This story seems to be just heating up and will certainly be one to watch as the year progresses.