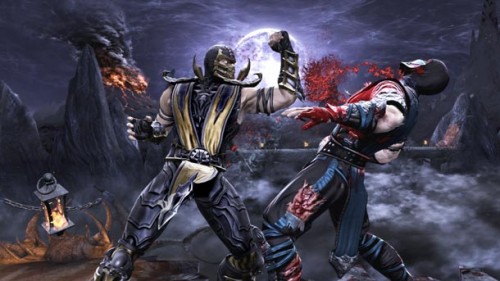 With just a couple of days to go before the release of Mortal Kombat on Xbox 360 and PlayStation 3 in the UK, we thought it was only right to remind you of the game's 21st April release date in the UK, disclosing a few more details about what you can expect if you do pick it up, courtesy of publishers Warner Bros. Interactive Entertainment.
"All of us at NetherRealm studios could not be more excited that players can finally get their hands on our all new Mortal Kombat game," said Ed Boon, Creative Director, NetherRealm Studios. "Our goal was to deliver the Mortal Kombat game that the fans have been demanding and feel we've delivered that and then some!"
The game has a number of new modes and the story will incorporate elements of older games in a re-imagination of the original story. There will also be platform-specific features like PlayStation 3 owners being able to take on the powerful role of Kratos from the God of War series.
In the all-new King of the Hill mode players the chance to actively cheer on their character in the theatre, with those with the Xbox 360 version able to use their own Xbox LIVE Avatar to represent them as they cheer, throw tomatoes, and boo the fighters competing. PlayStation 3 gamers will be able to choose their favourite Mortal Kombat avatars to represent them in the theatre.
Will anyone be picking this up on launch day in the UK? Or if you live in the US, have you picked it up already?