Coming to us with the launch of the 3DS on the 31st of March is: Tom Clancy's GHOST RECON SHADOW WARS and to celebrate this launch, developer UBISOFT have given us a launch trailer to observe and enjoy.
As the commander of the Ghosts, the best special operations fighting force in the world, your mission is to stop the Russian ultranationalist Yuri Treskayev from coming to power. From the hot deserts of Kazakhstan to the villages of Ukraine and the frozen lands of Siberia, you must discover and disable the secret soviet-era "Dead Hand" bases which Treskayev is using to build an army of drones. You will have access to full resources to build, train and equip your team, using most recent high-tech weapons and armor.
Another piece of news for this game today is that the boxart has been revealed, which we have just below.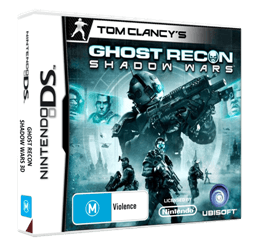 For more information on the game, see the UBISOFT 3DS splash page.
To See the video in it's original location, click here.