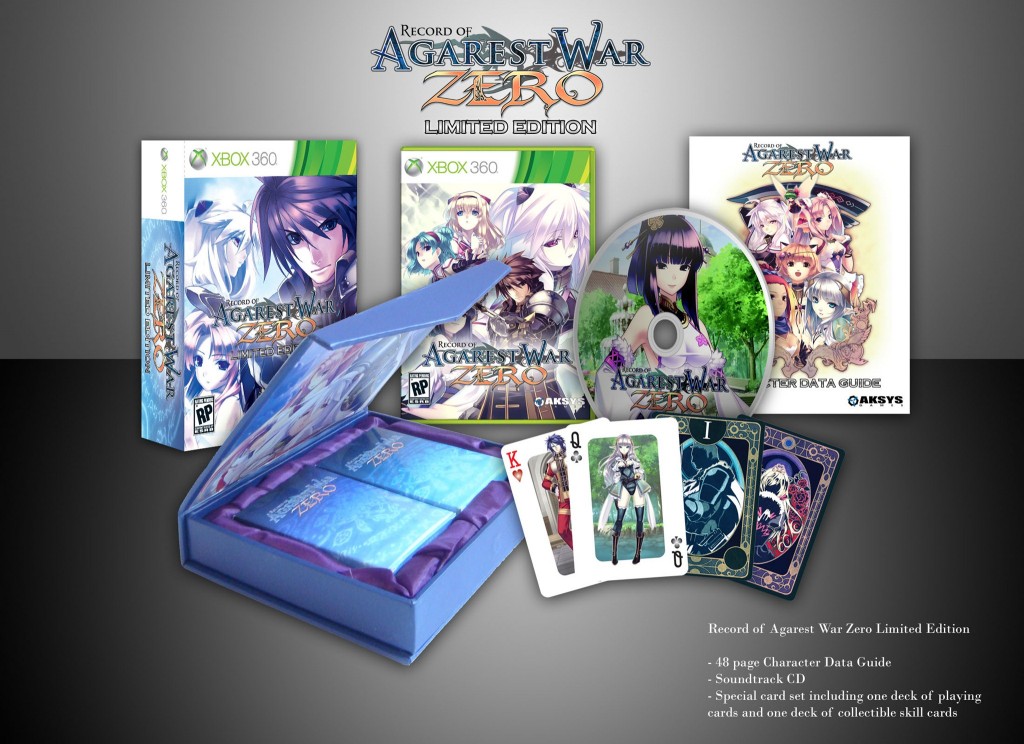 Last year around this time a game was released that featured one of the most unique special editions ever seen on U.S. soil. I am talking of course about Record of Agarest War's Naughty Edition that was released for the Xbox 360 version of the game. This Naughty Edition came with a pillow case featuring one of the main heroines from the game as well as a mousepad with another main heroine with gel "wrist supports."
It looks like Aksys will not be releasing as unique of a collector's edition this time around for the Record of Agarest War Zero's collector edition. This package will include a soundtrack CD featuring 34 songs from the game, a 48 page character guide, a deck of playing cards as well as a deck of skill cards. This all comes in a large collector's box with different cover art than the original boxart.  This version of the game will sell for $59.99 while the original version of the game without all of the special goodies is only $49.99 for the Xbox 360 and PlayStation 3.
Yes you read that right. Rather than going with a digital release for the game on the PlayStation 3 Aksys will be releasing both versions of the game to retail and will be able to be purchased at any game retailer that will be carrying it when this strategy RPG hits shelves in June. Also do not forget to take a peek at the screenshots below which show off some of the newer features of Record of Agarest War Zero.
[nggallery id=230]