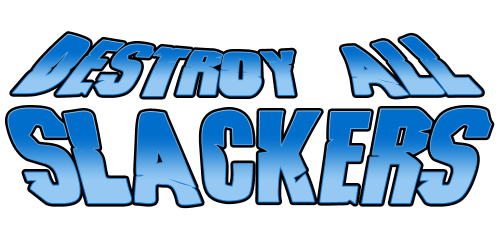 While there are plenty of gaming-related podcasts out there on the ol' interwebz (i.e. series of tubes), it can be hard to find a show that fits one's personal style. Destroy All Slackers, a gaming and nerd culture podcast, just might scratch that itch for gamers who enjoy both retro and modern games and fart jokes. The show is most certainly NSFW and I would recommend it only to those who are not easily offended, but the comedy is certainly there for anyone who is comfortable laughing at more risqué material. The hosts, Teller and Kris, will usually discuss the week's gaming news, their opinions on all things nerdy, and in their VS. Destroy All Slackers episodes they interview members of the gaming industry and community.
Guests on the show so far have included legendary voice actor and narrator of Dragon Ball Z, Kyle Hebert (who also provides the intro to the show), voice actor of Dr. Robotnik, Mike Pollock, former Sega composer of Sonic Spinball and Comix Zone, Howard Drossin, and most recently Brentalfloss, the popular video game music parody writer. The show is definitely worth checking out for these awesome interviewees alone.
If you want to check them out, you can either find them at the Destroy All Slackers website or download their episodes on iTunes. If I were to recommend an episode, both #10 and #13, with Kyle Hebert and Howard Drossin respectively provide plenty of chuckles and interesting conversation.