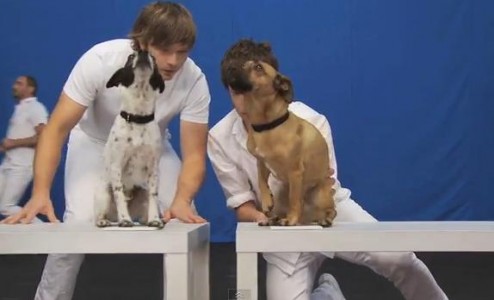 With the release of the 3DS just hours away in the UK and a few days from release in North America, many will be looking to test out the 3D aspects in all forms possible. Nintendo are now providing all users who update the system a nice incentive, the video for OK GO's "White Knuckles" in full 3D. This video features a plethora of rescue dogs (and one goat), and has exceeded over 9 million views on Youtube alone.

"We shot the 'White Knuckles' video in 2D and 3D at the same time, but until now, there hasn't been much opportunity for people to see the 3D version," said Trish Sie, the video's Grammy-winning director. "I'm fired up for people to watch the video again with Nintendo 3DS and experience it in a whole new way. This opens up all kinds of creative opportunities."
For users who want to grab the video, all you have to do is just go into "System Settings" from the Home Menu, select "Other Settings" and scroll the page right to select "System Update." Simple as that, really. This bit of news also makes me wonder just what sort of updates and videos we can expect later on in the handheld's lifespan as the opportunities are truly endless. For now though, this update will serve as not only a great way to watch an awesome 3D video, but also will enhance the communication features of the Nintendo 3DS system so don't forget to update when you pick up your 3DS.