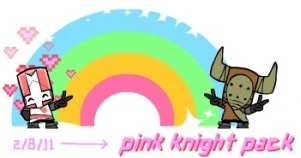 Guess what! The Pink Knight (seen in this popular flash game) is coming to castle crashers on the PSN for $1.99 on February 8th. Not only will it be a playable character for within the game, but 100% of Behemoth's Revenue will also go towards a good cause! Breast Cancer!
The playable Pink Knight will come packed with the Lollipop and 4 other brand new additional weapons which are all simply adorable!!
Don't worry XBLA players, The Behemoth loves everyone! They are currently working on a title update for XBLA that will bring the Pink Knight as a playable character to those players as well. They will hopefully have more details on the XBLA DLC and exactly what that pack includes in the near future; but my guess is that it will most likely include everything the PSN version has that the XBLA version doesn't (this includes the weapons and the bonus modes).
While you save up and wait to donate to this good cause through the purchase of the Pink Knight character pack, you can always play the Pink Knight flash game completely for free. (yes, it is the same link as the top one). Or you could always read all the details on the promotion on the Behemoth blog.