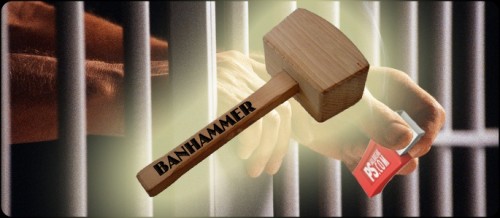 Hackers beware, Sony isn't about to just let you have a field day anymore on their console. The PlayStation 3 has unfortunately become one of the most notoriously hacked consoles of this generation considering the fact that Sony and the Hackers of the PS3 are always at war with one another. It seems that Sony has finally had enough of trying to simply patch the holes in their console and are bringing the PSN bans out. Read their full statement below:
Unauthorized circumvention devices for the PlayStation 3 system have been recently released by hackers. These devices permit the use of unauthorized or pirated software. Use of such devices or software violates the terms of the "System Software License Agreement for the PlayStation 3 System" and the "Terms of Services and User Agreement" for the PlayStation Network/Qriocity and its Community Code of Conduct provisions. Violation of the System Software Licence Agreement for the PlayStation 3 System invalidates the consumer guarantee for that system. In addition, copying or playing pirated software is a violation of International Copyright Laws. Consumers using circumvention devices or running unauthorized or pirated software will have access to the PlayStation Network and access to Qriocity services through PlayStation 3 system terminated permanently.

To avoid this, consumers must immediately cease use and remove all circumvention devices and delete all unauthorized or pirated software from their PlayStation 3 systems.
Sony is currently going to allow anyone that has any unauthorized additions to their consoles and hacks a chance to remove their unauthorized content before they ban them. However once that time period has passed they will begin banning players just like Microsoft has done for years on the Xbox 360. Will this solve the problem or just make it less prominent?