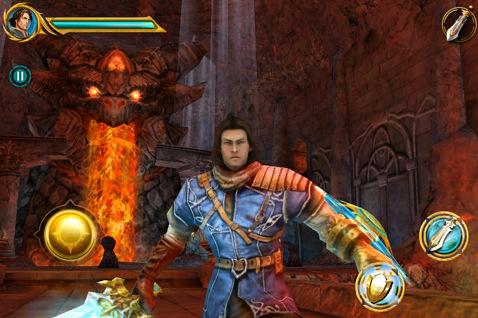 Gameloft have been masters to their craft when it comes to innovation on mobile and portable devices in the past, and their brand new action RPG, Sacred Odyssey: Rise of Ayden is doing that by being a free to play app. You may be scratching your head on this new title that is "free", but this one goes the route that we have seen many other mobile games take as of late, where the player can jump right into the game and unlock the full version through an in-app purchase.
Sacred Odyssey has players take the role of Ayden, a young hero chosen by a god to save the Kingdom of Lasgalen from the Apocalypse. It is a rather simple plot, but this title does pack a lot when it comes to a wide variety of areas to explore as well as some old school flare that will surely catch the attention of the fans of the genre in general.
Features Include:
A TIMELESS LEGEND
The peace of the world is now being threatened. Reunite the 4 fragments of Uryah's Grail and gain supernatural powers to defeat Amonbane, the dark lord at the heart of Lasgalen's suffering.
The fight against the demonic Amonbane will mean difficult decisions for Ayden, and Princess Lyanora will help him throughout. But when the moment comes to save the world, will Ayden be ready to make the greatest sacrifice?
AN EPIC ADVENTURE IN A FANTASTIC OPEN WORLD
Ride your horse, Miya, across the expansive plains of the kingdom and launch powerful sword strikes as you gallop through fields of enemies. Your journey will introduce you to many locations and foes.
Defeat evil creatures in the Plains of Urvale, fend off enormous bosses in the icy Temple of Altemagus and the volcanic Firepitch Keep to ultimately face Amonbane himself in the royal halls of Kivira Castle.
ALL THE GREATNESS OF A TRUE ACTION/RPG
Begin your journey with but a simple sword, acquiring new weapons and abilities along the way. Soon, you will wield the Sacred Shield, Locrian Hawk (boomerang), the Nagual Cobra (grappling hook) and even the platinum Gauntlet of Brakor.
Each new piece of equipment will grant you access to new areas, new techniques and greater danger. They will even help you to overcome the many enigmas and challenges you face.
Sacred Odyssey: Rise of Ayden is compatible with iPhone 3GS, iPhone 4, iPod touch (3rd generation), iPod touch (4th generation) and the iPad.
While this game does indeed look like a deep, interesting Action-RPG, what I really like about it is the free price tag. Yes, you have to pay for the full experience, but by listing it in this way players can base a purchasing decision by how they like the game as they play it. Think of it as a demo on the XBLA or PSN more less for the free version.
Players can now download and give this game a try at the official page on the Apple iTunes Store and those who fall in love with the game can purchase the full version instantly for $8.99. I really think this whole technique that Gameloft is using is brilliant and for all the users out there who end up compulsively filling up their memory on games they didn't care to try before, I'm sure I can speak for everyone when I say I hope more developers follow suit. As I mentioned, this app is now available to try out, so get to downloading what looks to be a charming and addictive title that is certainly worth looking into.