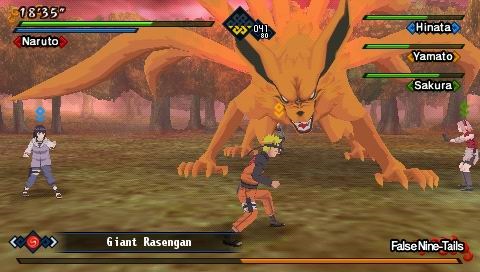 Feeling a little down because your favorite yellow haired ninja hasn't been around since November of last year? Then cheer up because the demo for the latest Naruto Shippuden game is available right now on the PlayStation Network to download onto your PSP. This way you can get a taste of what Naruto Shippuden: Kizuna Drive has to offer before it comes out on March 22nd for $40.
The demo itself will give players the chance to play as Naruto, Sakura, Kakashi and Shikamaru to battle against the opponents that they put you up against. But the most interesting bit of news is that a new trailer was also released for Kizuna Drive which says that the game will feature a completely seperate storyline than what is featured in the show and looks like it will place players up against Fake Tailed Beasts.
Kizuna Drive will allow players to go through this unique storymode as well as a free battle mode where you can build a four man team of your own and do battle against enemies. The appeal of this mode is the fact that you can team up with three other friends to fight together wirelessly.