If you have had an itch for a new flight sim, Ubisoft have IL-2 Sturmovik: Cliffs of Dover hitting shelves in a little under a month to fill that craving. This brand new installment in the series will be PC exclusive and set players in the 1940 skies, during the battle between British, the German and the Italian air forces.
Here is a full list of features from Ubisoft for IL-2 Sturmovik: Cliffs of Dover:
New aircraft: incredibly detailed true-to-life modeling of aircraft systems based on thousands of hours of dedicated research. Every single aircraft component can be damaged for realistic and immensely satisfying results.
Flyable aircraft – Over a dozen famous and highly detailed English, German and Italian aircraft available, with all crew positions open to players. All flyable aircraft have been painstakingly researched, resulting in incredibly accurate cockpit interiors.
Non-flying aircraft – 13 additional AI-controlled aircraft are also available, created with the same attention to historical accuracy, for an even more varied and immersive combat environment.
Modes Include:
Exciting Single-Player Campaign – The campaign thrusts the player into the middle of the battle. The player will join the British Air Force to fight the German forces and renegade pilots on his own
Massive multiplayer – Customizable modes range from simple death match-style free-for-alls to epic, ongoing 128 player battles that can last hours, days, weeks, or even longer.
Interactive training – Comprehensive interactive training for new players – fly a real WWII trainer plane with a computer controlled instructor through a series of training missions.
Brand new setting – The battle will take place on a large area spanning London and southern England in the north, to Northern France and Belgium in the south. The huge map will contain thousands of historical cities, towns, roads, airfields, radar stations, ports, and industrial areas – all located exactly where they were in 1940.
New 3D engine – Latest-gen graphics engine with DX10 and DX11 API support. Huge variety of photorealistic ground vehicles, buildings and other environmental elements recreate minute details of 1940s Europe.
Customizable difficulty – dozens of realism options allow newcomers to the franchise to reduce the difficulty and focus on the fun while learning the ropes of being a pilot.
Week long battles certainly do sound interesting, but if all of these features are not enough for the hardcore fans, we also have a brand new collectors edition to look forward to as well. What is in the package? Take a look for yourself.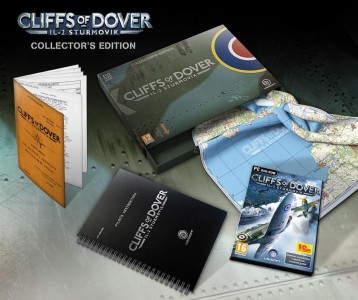 This edition includes:
The Windows PC version of IL-2 STURMOVIK™: Cliffs of Dover
A cloth pilot escape map showing The Battle of Britain strategic locations
A replica of the Pilot's Notes on the Spitfire I Aeroplane, provided to RAF pilots during The Battle of Britain and reprinted from the RAF Museum original document
An in-depth 150-page ring binder pilot instructions
Those who pre-order from the UbiShop on either version will also receive a free digital copy of Silent Hunter III.
I am all for a jam-packed collector's edition and this one great, especially since we don't often see sets created for PC titles. IL-2 Sturmovik: Cliffs of Dover will land in stores in the U.S. on March 22nd and in the UK on March 25th. Australia & New Zealand will also see a release in March, but no official date has been set in stone as of yet but we will keep you updated as this title gets closer to touching down all over.