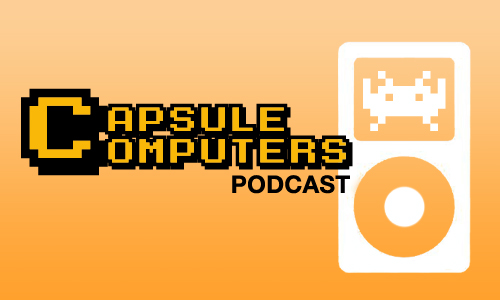 We are back!  This week, an evil sounding Sith Lord has taken over certain members of the podcast.  Although some suspect that the voices you hear on this podcast are faked, we can assure you that we have a battle of epic proportions on our hands.
Listen in as we discuss the latest news like the Pink Knight coming to Castle Crashers and a Black Ops DLC review.  We also talk about the Google CR48 Computer and some PC & iPhone games.  If you listen to the whole 'cast, you will also have an opportunity to win a valuable prize.
Please send emails with tips, suggestions and questions to podcast@capsulecomputers.com.  We always appreciate the feedback and we read every comment that comes through.  Thanks for listening!
Subscribe to our iTunes Channel
Subscribe to our iTunes Podcast Channel
Subscribe to Podcast RSS Feed
Subscribe to Podcast RSS Feed
Download The Show MP3
Download the Episode here (right click save as)
Download The Show Directly From iTunes
Download from iTunes
Zune will be coming soon!
-=-=-=-=-=-=-=-=-=-=-=-=-=-=-=-=-=-=-=-=-=-
List of links that were mentioned during the podcast:
Bionic Commando Rearmed 2 Review
http://www.capsulecomputers.com.au/2011/02/bionic-commando-rearmed-2-review/
Who's that Flying?! PC Review
http://www.capsulecomputers.com.au/2011/02/whos-that-flying-pc-review/
The Pink Knight comes to Castle Crahsers
http://www.capsulecomputers.com.au/2011/02/the-pink-knight-comes-to-castle-crashers-psn-for-a-good-cause/
Dark Souls Trailer
http://www.capsulecomputers.com.au/2011/02/dark-souls-trailer-released-to-be-spiritual-successor-to-demons-souls/
Twisted Pixel's "Gunstringer"
http://www.capsulecomputers.com.au/2011/02/twisted-pixel-is-releasing-a-new-game-and-it-is-for-kinect/
Angry Birds Cameo in Movie
http://www.capsulecomputers.com.au/2011/02/angry-birds-rio-movie-tie-in/
Doodle Jump and Hop movie cameo
http://www.capsulecomputers.com.au/2011/02/doodle-hop/
Batman Arkham Asylum Screenshots
http://www.capsulecomputers.com.au/2011/02/latest-batch-of-batman-arkham-city-screens/
Black Ops First Strike DLC
http://www.capsulecomputers.com.au/2011/02/black-ops-first-strike-dlc-review/
Dance Evolution Review
http://www.capsulecomputers.com.au/2011/02/dance-mastersdance-revolution-xbox-360-kinect-review/
Plants vs Zombies Nintendo Review
http://www.capsulecomputers.com.au/2011/02/plants-vs-zombies-nintendo-ds-review/
Secret of Mana iPhone Review
http://www.capsulecomputers.com.au/2011/01/secret-of-mana-iphone-review/
Mortal Combat iPhone Review
http://www.capsulecomputers.com.au/2011/01/ultimate-mortal-kombat-3-iphone-review/
Google CR48 Impressions
http://www.capsulecomputers.com.au/2011/02/impressions-of-the-google-cr48-computer/
Intro/Outro Music Credit
Audio Provided by NemesisTheory
Send all your video game or podcast questions, hints, suggestions and feedback to podcast@capsulecomputers.com
Thanks for listening Copywrite Capsule Computers Pty Ltd – All Rights Reserved