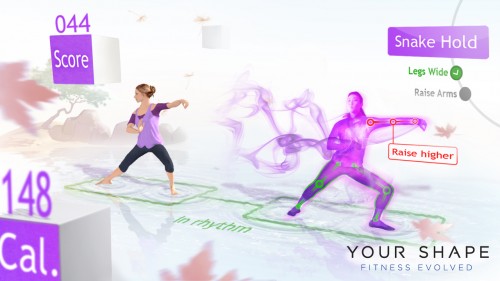 Two fitness programs are available on Xbox Live for download as DLC.  The two new programs are the "New Year New You" and "Dance Workout: Bollywood."  The first one is tailored to help people get get back in shape after all that partying done over the holidays.  And the Bollywood program pairs dancing and exercise together.  Remember that this game requires the Kinect to play.  Each add-on will cost 4oo MS points or 560 points when bought together.  Over 12 pieces of DLC will come out in the first 6 months of 2011.  Two other workouts, the "Toned Body Program" and the "Cardio Boxing Platinum" are already available as DLC.
BUT WAIT !!! THERE'S MORE !!!
In celebration of the New Year and a "New You," the Your Shape: Fitness Evolved App lets users view and manage their Your Shape profile and stats on-the-go, allowing them to quickly and easily track how many calories they've burned and monitor progress made towards their fitness or weight loss goals.  
The Your Shape: Fitness Evolved App is available for free from the App Store on iPhone and iPod touch or at www.itunes.com/appstore. 
For more information on Your Shape: Fitness Evolved:   http://yourshapecenter.au.ubi.com/