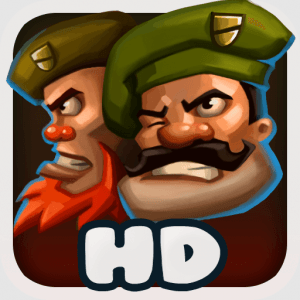 Game Name: Guerrilla BOB HD
Platform(s): iPad (iOS 3.2 or later)
Publisher(s): 24Seven3D
Developer(s): Angry Mob Games
Genre(s): Action
Release Date: 21st December, 2010
Price: $0.99 (BUY NOW!)
Angry Mob Games are back with Guerrilla Bob HD !! You can now connect with a friend and play some CO-OP multiplayer using local Wi-Fi on your iPad and enjoy the top down dual analog shooting mayhem on a range of different devices such as : the iPhone, iPod touch, MAC, PC or Android.  Using your iPad, you'll also be able to play with a friend in Split Screen mode, on the same device.
Angry Mob have advised and we've seen that in CO-OP enemies will react differently, based on the most aggressive player, you'll be able to revive your partner when he's down, and use various strategies to flank the bosses or balance the equipped weapons. Quite a lot of fun to be had thats for sure.
 The iPhone version has already released a free patch enabling the CO-OP  feature.  The rest of the systems will be getting the patch in January.  For the Holidays, two new characters have been released!  Rob McBang and Santa Bob will help you flank your enemies, revive team mates, eat bananas and wreak havoc.  Check out the video gameplay below, and then buy the game (only 99c).  Make sure to try out the hard mode, where  you will go bananas.  You know, I just realized that we may be talking about different gorillas here. 
[pro-player width='530′ height='253′ type='video']http://www.youtube.com/watch?v=3jmsFLhwFbM[/pro-player]
Guerrilla Bob HD features various gameplay modes:
-Arcade Story Mode, where Bob fights for fame
-Mercenary Story Mode, where Bob fights for fortune
-Classic Survival
-Wave Attack
There is an easy difficulty mode and an aiming assist system, but I recommend the hard mode, where you'll really feel all the tense action.
Check out our review for Guerrilla BOB on iPhone here.
Screenshots :