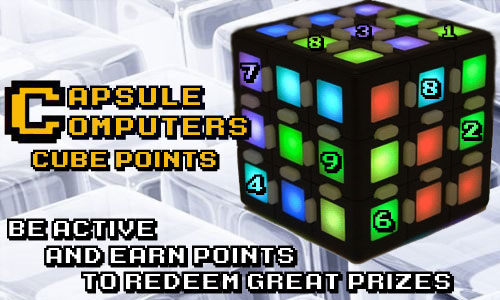 Hello everyone!
Cube Points are officially live and working to their fullest potential with many ways to gain points and many ways to spend them on cool rewards.
Cube Points have been technically floating around on the site since the end of October, but we have officially dotted our i's and crossed our t's and placed the entire rewards system onto the site. The cube points system is fully working and everyone can gain points and spend them on whatever they want.
There are a lot of additions so check out the numerous pages we have set up and familiarize yourself with the system.
Click the links below to go to each page, or hover over the Cube Points tab at the top of the site and pick the particular section you are interested in.
If anyone has any questions feel free to ask.  Leave a message below or in the forum (link to it located below)
We hope everyone uses this new rewards system to its fullest potential and that everyone enjoys themselves as they participate in the community and gain cool rewards for doing so.
As a big thank you to those who have been posting recently, we are awarding the current top 5 on the leaderboard extra points onto their account. (Please give up to a week for these points to actually get into your Cube Points account)
–
Capsule Computers reserves the right to alter the Cube Points rewards program in any way shape or form without prior notice.