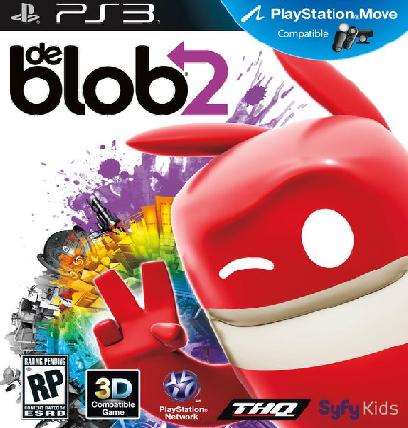 A little over two years ago, de Blob showed up on the Nintendo Wii, bringing a bit of color and innovative gameplay to gamers across the world. Blue Tongue Entertainment and THQ have now released a new trailer a bit of info on what to expect for the sequel, de Blob 2.
First up is for the Playstation 3 version, the title will fully support the Playstation Move as well as supporting 3D televisions for both the PS3 and Xbox 360 versions. The game will also be making it's debut on the Nintendo DS and returning to it's original platform of the Nintendo Wii.
Here is a bit of information from the new launched website which can be found at this link about the story:
Blob's origins are mysterious, but he rolled up at the right place and the right time to be the hero that the Color Underground was looking for. Music surrounds him and color energy flows through him; with his touch Blob can literally make the world a better place.
Blob represents individuality and determination. Blob is good hearted but lazy. He is often late, but he always comes through.
de Blob 2 puts you in a colorless world thanks to the evil Comrade Black, and it is up to you to gain the color back in the city by sapping it off Paintbots and Paint Pools, restoring the color as you move through the very visually stimulating game. Everything is looking great in this game from the more polished look of the gameplay to the newly enhanced graphics for the Xbox 360 and PS3 versions. de Blob 2 rolls out to consoles on February 22nd in the U.S. and February. You can check out the new screenshots and trailer below.