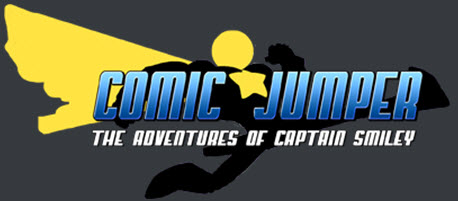 So, Comic Jumper is clearly part of "The Game Feast" if you had simply glanced at my Game Feast Post, but I bet you didn't know that you'll be able to play it one more time before release at this year's Pax. Along with the release of the game on October 6th for 1200MSP they are also giving away a whole bunch of stuff. If I had to sum up this press release with one word, it would be "Free Stuff!"… aside from the fact that that was two words. no space? "FREESTUFF!!"
Check out the Press release below to learn more about the game, about the free stuff being given away at PAX, the free stuff you get for buying the game, and also a few free laughs located right within the Press Release. Did I mention Free Stuff?
~~
At Twisted Pixel there are few things we love more than food, so when Microsoft announced we'd be headlining the inaugural Game Feast, we were busy downing tacos.  But a couple hours later our food comas largely wore off, and we realized that on October 6th, Comic Jumper would be released to the world, and that's pretty awesome.  We should probably celebrate it with a bunch of free stuff and maybe write a food-themed press release.  Let's get to it.
Looking Over The Menu
The Captain is a superhero extraordinaire and prima donna star of his own comic book series that spans literally tens of readers.  After he gets cancelled, Twisted Pixel swoops in, ready to pay him minimum wage to be our lab rat with our new Comic Jumper technology – hiring him out to other comic books to come in and save their storylines when things go wrong.  Art Director David Leung says of the game, "four completely unique art styles in one game, each with their own gameplay modes and animations?  It's cool, I don't need to see my family."  Dave?  Dave's just giving me the finger now.  Moving on…
Main Course Served, Let's Gorge
As part of The Game Feast promotion for Xbox LIVE® Arcade, Comic Jumper releases on October 6th at 1200 points.  Continuing our tradition of cramming as much free stuff as we can into each game, Comic Jumper comes with a Premium Theme, Gamerpics, and free Avatar accessories!  As a special thank you to our Splosion Man fans, the game also includes a pair of free extra-long levels for Splosion Man, one Single-Player and one Multiplayer.  I don't know how our mad programming geniuses pulled off that last one, but it's pretty cool.
I'll Take More Of That, That…. and That
Today we are releasing our latest in-depth reveal, this time on our 4th genre, Manga.  If there was any doubt to how much we love our fans, let me just say that watching hours of obscure terrible Japanese manga is considered a war crime in most countries.  Designer Sean Conway comments on the complexities of incorporating the nuances of Japanese style, "Kunichiwa!  Tsunami ramen sushi hurricane Punch!"  Attaboy, Sean!   Way to sacrifice your sanity for the good of the game!  Check out www.twistedpixelgames.com for the fruits of his despair.
Ate Too Much, Think I'm Going To Puke
We'll be showing up to PAX this year with a vast array of giveaways and prizes.  Our pièces de résistance are four custom painted "slim" Xboxes featuring The Captain that we'll be giving away to lucky fans.  Our booth at PAX, aside from being staffed by our awesome team members, will have live ukulele performances of Donuts, Go Nuts! by our resident musical prodigy, Matt "Chainsaw" Chaney.  We'll also have game competitions of Splosion Man and Comic Jumper, and free posters and other giveaways.  Plus we have some sweet T-shirts and Statuettes for the true superfan.  If you can't make it to PAX, fear not: soon afterwards we'll be giving more custom Xboxes away through your favorite websites.  These Xboxes feature takes on the Captain by renowned comic book artists.