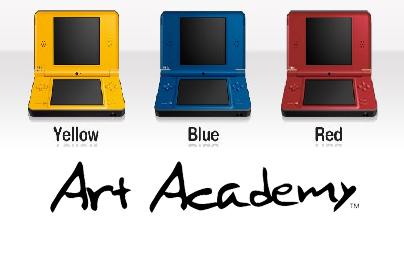 Some exciting news for all of our Aussie readers out there. Recently we brought you news about both Art Academy and the many new colors for the DSi XL that will be releasing soon for Australia. Nintendo of Australia have now announced an awesome event coming soon to EBGames for a chance to get a preview of the new hardware and hot new art title for the Nintendo DS.
On Thursday 9 September and Thursday 16 September, be one of the first to see the new Nintendo DSi XL colours and experience Art Academy before its 23 September release. Come along to The Nintendo Experience, EB Games 67 Swanston St Melbourne, between 11:30am-2:30pm on the above dates for this exclusive sneak peek!
Nintendo DSi XL will be available in yellow, blue and red in Australia and New Zealand from 23 September 2010.
Art Academy: Learn Painting and Drawing Techniques with Step-By-Step Training! Art Academy provides everyone from beginners to experts with tools to create their own works of art plus simple tutorials to learn about colour, shading, movement and perspective. Art Academy includes 10 mini lessons and more than 80 motifs that players can choose from to use as reference material when creating their art. In addition, If you have a Nintendo DSi or Nintendo DSi XL, you can easily redraw photos you have taken.
Add more colour to your life with the new Nintendo DSi XL colours and Art Academy, available exclusively on Nintendo DS.
This should be a fun time for any Nintendo fans and a great way to check out new products to hold gamers and aspiring artists over until Art Academy releases later this year. For more information on this event and more check out the official website at http://www.nintendo.com.au/.