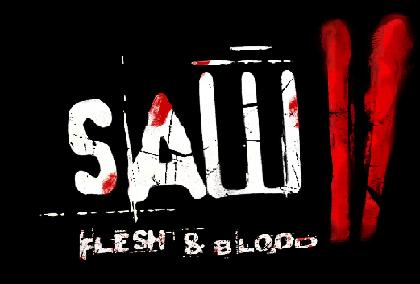 SAW II Flesh & Blood has now been dated and will now be out for Halloween. Konami has officially announced that the sequel of the first SAW game, based on the popular move franchise will be hitting shelves on October 19th for the Xbox 360 & Playstation 3. The release date will also come just in time to coincide with the newest movie that will hit theaters on October 29th.
SAW II: Flesh & Blood threatens sanity with new stomach-twisting traps and puzzles, more visceral combat, and an all-new storyline that takes place between the first and second movies. Gamers take on the role of Detective Tapp's estranged son Michael, who is trying to understand his father's death. As players navigate their way through Jigsaw's terrifying world, they will face mind-bending puzzles and must defend themselves against the minions Jigsaw has placed in their path. In order to survive Jigsaw's games, players must use their intelligence and desire to live in order to survive.
Konami has also released an all-new look at concept art from the game for those daring enough to enter Jigsaw's world. The images reveal newly created deadly traps that challenge the player to think fast under pressure.
Zombie Studios Producer, John Williamson, shares the vision for the game, "Just the silhouette of the character in the trap had to make the viewer uncomfortable. You had to know instantly that something bad was going to happen to this person if you didn't get them out." A look at the intense and detailed environments were also revealed to show the mysterious, detailed levels one can expect in this year's release.
Take a look at the Concept Art below and get ready for this jam packed horror survival game with plenty of traps and puzzles to to your will for survival with Saw II: Flesh & Blood.