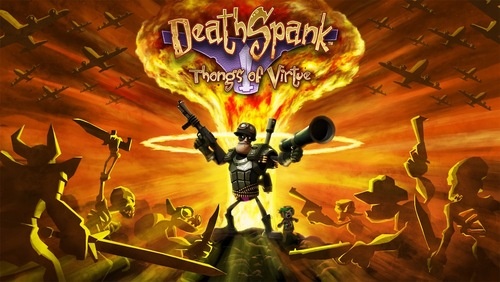 With only a months absence the hero of the downtrodden is making his return to the PSN and XLBM. That is right, EA has announced that the sequel to Deathspank, titled Deathspank: Thongs of Virtue is set for release on September 21st on the PSN and the 22nd for the XBLM. They will be costing 1200 MSP or $15 depending on the console you happen to purchase it for. A bit of the storyline for the game below:
"A long time ago, nine mystical thongs were planned to bring balance and harmony to the universe, but when marketing got in the way, only six thongs were produced, and the result was disastrous. Granting great power to those who wear them, the thongs corrupted all those they touched — except DeathSpank. DeathSpank must find all six thongs and destroy them once and for all."
This will be a full game and will be taking place after the events that happened in the first Deathspank game. There are a few minor adjustments, such as the Co-op character Sparkles the Wizard has been changed to Steve, who knows Kung Fu. Plus the game will be over 50% longer than the first game and include different areas to be adventured around the globe. You will not be carrying over any progress from the first game however, because after all… what can swords do against those that wield guns and explosives huh?