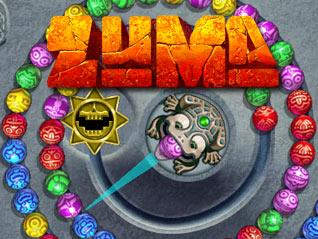 Facebook is starting to become known more and more everyday as a way to kill time with casual games. With the huge success of Bejeweled Blitz, PopCap Games are now bringing their hugely popular puzzler Zuma to the social networking site as Zuma Blitz. Zuma Blitz will be the first adaptation of the huge fan favorite. Now you can take on your friends high scores and enjoy all of the ball-busting fun of Zuma with all of the new social-centric features being added in.
PopCap Games released this statement today:
"We've received a ton of feedback regarding how players consume Bejeweled Blitz and other leading social games, and incorporated a number of those insights into this initial phase of Zuma Blitz, with more to come," said Jason Kapalka, co-founder and Chief Creative Officer at PopCap. "Zuma is a very different game than Bejeweled, so the social adaptation has gone in different directions. Zuma is already a fast-paced arcade game, so the challenge was to make it feel approachable to players of all skill levels, even with just sixty seconds to play."
Some of the best news for fans of Zuma is that PopCap will bring in more and more to enhance Zuma Blitz over time so users can expect it to evolve over time with newer features. When Zuma Blitz launches next month, here are the features that will be available:
New levels introduced regularly
An "experience points" system to unlock additional features and capabilities
A "Treasure Chest" virtual currency-based system for obtaining in-game power-ups
New features such as time extenders, score multipliers and the "Hot Frog" speed mode
Additional information on friends' in-game performance and status such as medals won, achievements earned at various point thresholds and experience level
Weekly tournaments and leaderboards
Bejeweled Blitz currently gets over 100 Million play sessions per day with nearly 30 million users. Quite a staggering number. With Zuma Blitz rolling out next month, it will be a whole new way to kill time and all of your Facebook friend's egos we can all "Like".  For more information, check out Pop Cap's Facebook or Official Website.