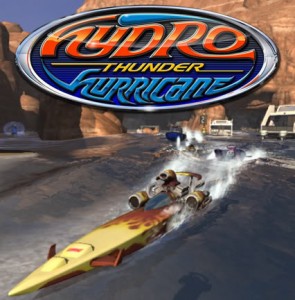 Microsoft Game Studios and developer Vector Unit announced that Hydro Thunder Hurricane will be released on July 28th as part of Xbox LIVE's Summer of Arcade promotion!
The game is the sequel to the now oldie (but goldie' 🙂 ) Hydro Thunder from Midway.
Rather than simply recreate the original game with updated graphics, Vector Unit promised an all-new game engine for the sequel, with gorgeous HD visuals and amazing dynamic water physics. The downloadable game features 8 all new interactive race tracks, new Single Player game modes, Xbox LIVE Leaderboard challenges, as well as robust multiplayer support for 8 players online, local split screen races with up to 4 players — and a combination of split screen and online play.
"Our goal with Hurricane was to deliver tons of new content with the kind of polish and depth you expect to find in a full retail game. It takes hours to unlock everything in the single player mode, and once you've done that you still have multiplayer, which I think is where the game really shines."
Fans will recognize favorite speedboats from the original Hydro Thunder: Razorback, Damn the Torpedoes, Tidal Blade, Rad Hazard and others return with beautifully redesigned models, multiple unlockable skins, and articulated boost animations with massive rockets folding out from hidden compartments.   Race tracks are all original, but packed with the kinds of shortcuts and spectacular surprises the series is known for.
"On top of everything else, Hydro Thunder Hurricane is perfect for Summer of Arcade.   What's the first thing people think about when it's summertime?  Sun, fun, splashing around in the water, driving a speedboat at 200 mph, jumping off gigantic cliffs, and dodging dinosaurs.  Right?"