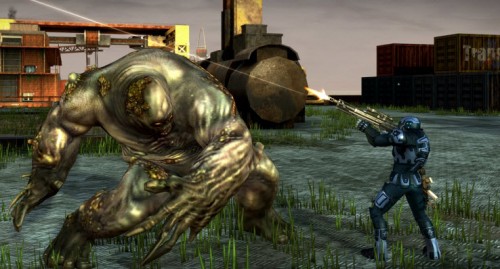 Great news everyone. Crackdown 2 is now available for purchase.  Originally the street date for this was 8th July (tomorrow) but looks like someone broke it AGAIN and therefore it's now fair game and be sold anywhere in Australia pick up your copy now. 
Rundown of Crackdown 2
The sequel is set some ten years after the first instalment, placing the player as another genetically-modified agent sent out onto the streets of Pacific City. The once-bustling metropolis has been ravaged by infection and the ongoing struggle for power over the city's inhabitants. The player returns to fight off hordes of Freaks following their accidental release into the populace and regain control of the City from the hands of The Cell – a powerful terrorist organisation fighting to overthrow the Agency. Crackdown 2 features over-the-top action that exemplifies truly freeform gameplay and lets gamers explore and play however they choose.
Players return to Pacific City with new abilities, combat capabilities, weaponry and vehicles that all have the unique Crackdown touch that fans have come to love. With four-player cooperative play and multiplayer modes for up to 16 players over Xbox LIVE, you can take the fight to the streets and rooftops with your friends in explosive style.
Features:
* Over-the-top Action: Leap across rooftops, throw vehicles like toys, blow up entire streets! Take on all the city, and have a blast doing it!
* Ultimate Multiplayer experience: Play alone, or cooperatively with 3 more friends in true jump-in/jump-out co-op, or with 15 PVP adversaries (*Xbox LIVE Gold membership required for online multiplayer).
* Open-ended: Take any objective in any order, at any time. You decide how to play!
–
If you buy it let us know what you think of it.