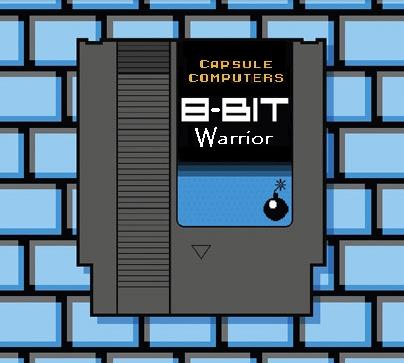 Ladies and Gentlemen the votes have been tallied, the Capsule Computers CREW have voted and this months Capsule Computers 8-Bit Warrior award goes to someone that's contributed a great deal of input from the beginning of this month. This months winner has been an active member of the Capsule Computers Community and has shown a true passion to be part of the Capsule Computers Community. This months winner is :
pjwification
Let's all congratulate pjwification on being the Capsule Computers 8-Bit Warrior for the month of April. As 8-Bit Warrior pjwification now must work even harder to keep his coveted title !! There will be many challengers to his crown next month so everyone keep on doing what your doing, work hard and make sure you spread the word invite more people, become members, and fans of our facebook and twitter accounts, check out and participate in the forums. But most of HAVE FUN and enjoy all the news, reviews, interviews and cool stuff we share with you all each and every day.
–
On another note. The staff at Capsule Computers have had a meeting to discuss the winners for the fortnightly competition. We would like to also announce the winners for the end of month. Winners are in no particular order :
Andrenekoi
halladay
frankcastle66
poisonsix9
Congratulations to the 4 LUCKY WINNERS !! We will be in contact with you to advise you what prize you have won 🙂
–
Remember the rules : 1 to 5 WINNERS WILL BE DRAWN ON THE 15TH & END OF EVER MONTH ALONG WITH THE 8-BIT WARRIOR AWARD. THIS Will continue to be a PERMANENT COMPETITION !!!
On the 15th of every month 1 to 5 winners will be chosen using the same criteria we have use to pick our 8-bit Warrior.
At the end of the month 1 to 4 winners will be chosen once again along with the Grand Champion 8-Bit Warrior for the Month.
Full details have been posted in the Competition Page here.
–
That's all for this month guys 🙂 Keep up the great work. Continue to have fun, post, chat, twitter, Facebook and get involved in the forums. We'll see you at the next Competition announcement on the 15th of MAY. Till then continue to enjoy all the great stuff we have to offer at Capsule Computers 🙂