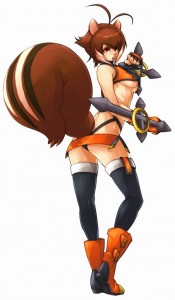 Anthropomorphic squirrel girl? A skimpy outfit? A fighting game?! That is all in one neat little package right there. Or more like Blazblue: Continuum Shift is the package, and Makoto the squirrel girl is the bow on top for a bit of an extra fee. Arc System has released a bit of information about two DLC characters that will be available for the game on August 5th, a full month after Japanese release on July 1st, but only a few days past Aksys' American release date of July 27th.
Makoto Nanaya is the new character to the lineup, but maybe not as new as one would think. If you have played the previous game of the series; Blazblue: Calamity Trigger and advanced in the storyline you will have noticed Makoto playing around with Noel and being a part of her storyline.
Turns out that there is much more to Makoto as she is now a fighter for purchase in Continuum Shift, though no price has been set on her. Also we do not yet know if the DLC itself will be available for both the Japanese audience and the American audience, but I'm really hoping it also comes to America.
Another fighter that is available for download is an old favorite in the form of Nu. She was originally not included in the sequel, but plays a pivotal part in the first game. Not as much of a new addition but fans of her fast paced fighting style and teleporting blades will be glad to see her come back.
We will be seeing the full game on both the PS3 and the Xbox 360, and if you wish to read our review of Blazblue: Calamity Trigger you can do so here.
Courtesy of AndriaSang