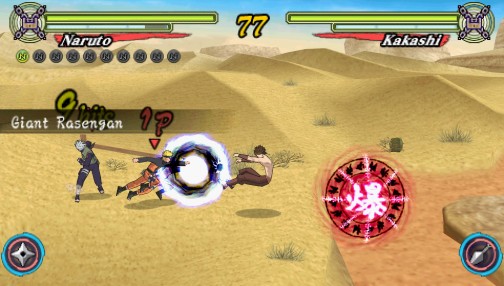 NAMCO BANDAI Games America Inc have announced today that NARUTO™ SHIPPUDEN: Ultimate Ninja® Heroes 3 is now available at retailers nationwide for the Sony Playstation Portable (PSP).
Based on the popular animated NARUTO SHIPPUDEN series from VIZ Media, NARUTO SHIPPUDEN: Ultimate Ninja Heroes 3 refines the series' trademark fighting mechanics by offering an all-new adventure mode, a new roster of fierce ninja, and robust multiplayer battles.
In NARUTO SHIPPUDEN: Ultimate Ninja Heroes 3 players can re-live the NARUTO SHIPPUDEN storyline up to the Hidan and Kakuzu arc in the new Master Road mode as they follow the Nine-Tail Fox ninja in his continuing adventures to save his friend Sasuke. With more than 80 action-packed missions, players' skills are put to the test as they face intense battles using one of more than 50 characters.
Now for the first time in the series' history, NARUTO SHIPPUDEN: Ultimate Ninja Heroes 3 expands upon the series' renowned fighting engine and updates it for four-player brawls. Through an ad-hoc connection, players can team up with a partner to take on opponents while unleashing devastating Jutsu attacks or single-handedly battle multiple enemies. Additionally, NARUTO SHIPPUDEN: Ultimate Ninja Heroes 3 features a three-player cooperative mode which allows players to experience select adventures in the main story. As Naruto explores familiar settings throughout the Leaf and Sand Villages, players will also be tasked to complete specific missions including winning battles, evading danger and much more.