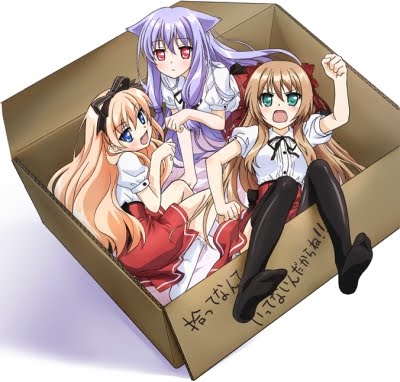 Has anyone here ever seen a TV series where they changed directors for every episode? I sure haven't. The standard of TV series usually has the same exact director for as many years that they air for. However that is not true now for a brand new anime called Mayoi Neko Overrun.
The show has been listed for a director that is "Under Negotiation", however now the makers of said anime, AIC, have stated in the website's official blog that the show will have a different director for each of the show's 12 episode run.
The first episode was directed by Shin Itagaki, Kenichi Yatani directed the second, and Yoshimasa Hiraike directed the third episode. They have not quite said which director will produce the fourth episode, nor do they release who they have lined up. However one thing is true, it will be quite interesting to see how each episode may vary slightly due to the difference in director. One episode may contain extremely dramatic happenings, while another is lighthearted and joyful as it follows the standard storyline of the show.
In case anyone is interested in the plot of Mayoi Neko Overrun, an adopted orphan boy and his childhood friend work for a pastry shop owned by the boy's adoptive sister. They take in stray cats and stray other things, including a girl who appears to be mysteriously like a cat girl herself.
Quite interesting if I do say so myself. Do you think that most shows would actually benefit from a variety of directors doing different episodes? Maybe a little change of pace every now and then in shows which have hit a stagnating point?