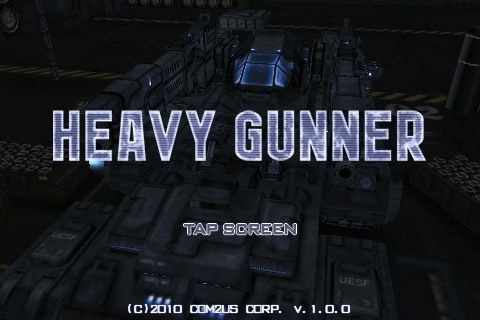 Press Contact:
Don Lim Com2uS USA, Inc. 650-926-8811
info@com2us.com
Com2uS, San Francisco, April 26, 2010 – Heavy Gunner 3D, the ultimate melee intergalactic shooting game went free at April 22 (PST) and took only 15 hours to reach Top 1 free app in the App Store
In the review and rating section of the App Store game page, there are users quoting that they had never thought a game like Heavy Gunner 3D would go free. In fact, there are not enough full 3D graphic games with good game quality such as Heavy Gunner 3D in the free application market.
Heavy Gunner 3D marking Top #1 in 15 hours just shows that a decent game in the market is bound to be picked up, especially if the game is FREE.
Heavy Gunner 3D released on February and was applauded by game critiques such as 148apps, CapsuleComputers and TouchMyApps. It gives endless playtime, loaded with 35 missions, a survival mode, and 50 achievements.
" It was beyond my expectation to see Heavy Gunner 3D sitting on the top when I checked the ranking next morning.", said Joony Koo, Senior Manager of Com2uS, Global business team, "Free event with FAAD was a token of gratitude to our Com2uS fans. Heavy Gunner 3D, one of the latest game with highest 3D graphic quality, was the right game for Com2uS fans and FAAD visitors."
This free event with Heavy Gunner 3D was run with FreeAppADay or FAAD. (www.FreeAppADay.com)
Joe Bayen, CEO of FAAD added on the comment "We are excited to be be partnering with Com2uS, We previously pushed several apps to the top of the App Store, but Heavy Gunner 3D's astounding ascent broke all our previous records by reaching the top spot in just 15 hours."

Com2uS is planning for more promotional events with upcoming games. So, keep an eye on Com2uS fan page (www.facebook.com/com2us) and follow them on Twitter @com2us.
Trailer
Heavy Gunner 3D is now on the App Store at:
http://www2.com2us.com/redirect/r.asp?g=131
About Com2uS
Com2uS USA is a subsidiary of Com2us Corporation, the leading mobile game company in Korea. Com2uS Corp. is known for creating fun and engaging mobile games including HOMERUN BATTLE 3D, the winner of iPhone Best Sports Game 2009 by IGN and TouchArcade. Com2uS games are available in various smart phone platforms. For more information, please visit http://global.com2us.com/ and follow us on Twitter @Com2us