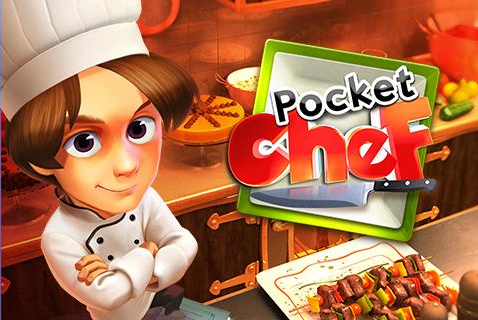 GAMELOFT's FIRST 3D COOKING GAME on the App Store.
Only $5.99 AUD in the APP STORE :  
Follow up to 25 yummy recipes step by step and put your precision & speed to the test in 19 fun mini-games! Bake, boil and blend your way to become a Culinary Master!
Put on your chef's hat and prepare for gourmet fun!
The need for precision makes Pocket Chef loads of fun! Thanks to the Accelerometer, you'll play by making the same movements as if you were really cooking. Soon you will become obsessed with flipping steaks before they burn, or breaking an egg without smashing it!
Plus, the game doubles as a recipe book available to you 24/7! You'll find great recipes for gazpacho, tropical cocktail, delicious brownies and much more.
Bon Appétit!
Ingredients for Pocket Chef:

• 19 MINI-GAMES composing real recipes, from the preparation of ingredients to the baking & presentation.
• 25 RECIPES from all over the world, including different courses and cuisine.
• 5 KITCHENS beautifully designed in 3D: Bake your way from veggie delights to American classics!
• A RECIPE BOOK: Unlocked recipes are available whenever you want to try them in real life.
• REALISTIC 3D GRAPHICS make your dishes look mouth-watering!
• To spice up the game, your culinary achievements appear on Gameloft Live!
• iPod Library Access: Listen to your favorite music while cooking.
–