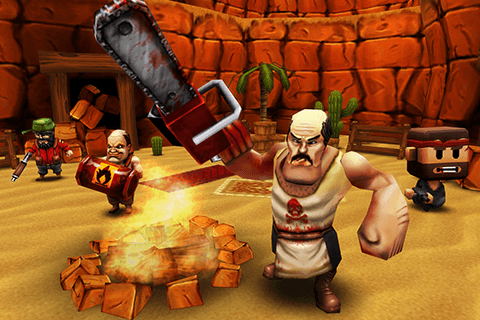 Chillingo & Angry Mob Games Presents : The Guerrilla Bob Story

It all started with two best friends. Bob and John Gore have been friends since they were 10, and continued to be best buddies through high school, and then through college.
Eventually, Bob decided to enroll in the army, while John Gore chose a life of crime and money.
Bob got great achievements and got promotion after promotion, until he got to be a national hero.
Jealous of his success, John Gore set him up so that Bob would look like a corrupt soldier. So Bob was kicked out of the army.
With nothing left to do, Bob decided to get REVENGE, and became a rebel. From then on, he would go by the name Guerrilla Bob. One day, Bob found that the army had a plan to nuke the place where his old friend John Gore had his troops. He sabotaged the plan, so he'd go in by himself and hunt them down one by one.
Sit back and enjoy the new Guerrilla Bob Trailer coming soon to the iPhone
Screenshots :