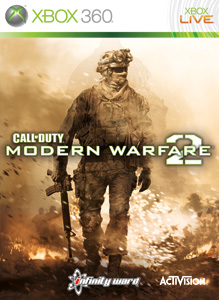 10-November-2009 will go down in History as the day that the world stood still…. Well, not really stood still.   More like didn't feel too well, called into work to tell them they won't be coming in today, then picked up their xbox 360, ps3 controllers, and proceeded to play most certainly the GAME OF THE YEAR for 2009 :  Infinity Wards : Call Of Duty : Modern Warfare 2
I think that the world should all stand up and give the fine people over at Infinity Ward a VERY big round of applause and praise and appreciation for all their hard work in getting Modern Warfare 2 out on time and in great shape.  I haven't seen such a well polished and enjoyable game, multiplayer as well as campagne in quite some time.
As we are all quite busy doing what we do best and that is playing Modern Warfare 2.  There wont be much updates to the site today.  But once I'm done with the single player campagne I will be back to show you what you get in the Prestige Edition of Modern Warfare 2 and also run through some of the finer points of the game hopefully via MasterAbbotts' video reviews.
So hang tight.  Be cool and go play some Modern Warfare 2
–
Charlie Tango, Mango, Overlord, Ghost, Over and Out 😉